Jax Beaches Dental Assisting School offers a
12-Week Dental Assistant Program!
At Jax Beaches Dental Assisting School, the courses and curriculum have been developed for completion in only 12 weeks! The comprehensive dental coursework prepares you for successful entry into jobs in the dental assisting field. Once you complete the curriculum, you will be ready to work side by side with the dentist, as well as sterilizing equipment and instruments. You will also be prepared to complete lab work, expose, develop and mount X-rays. You will also be able to work side by side with dental hygienists, schedule dental appointments, and help in many other areas of the dental office.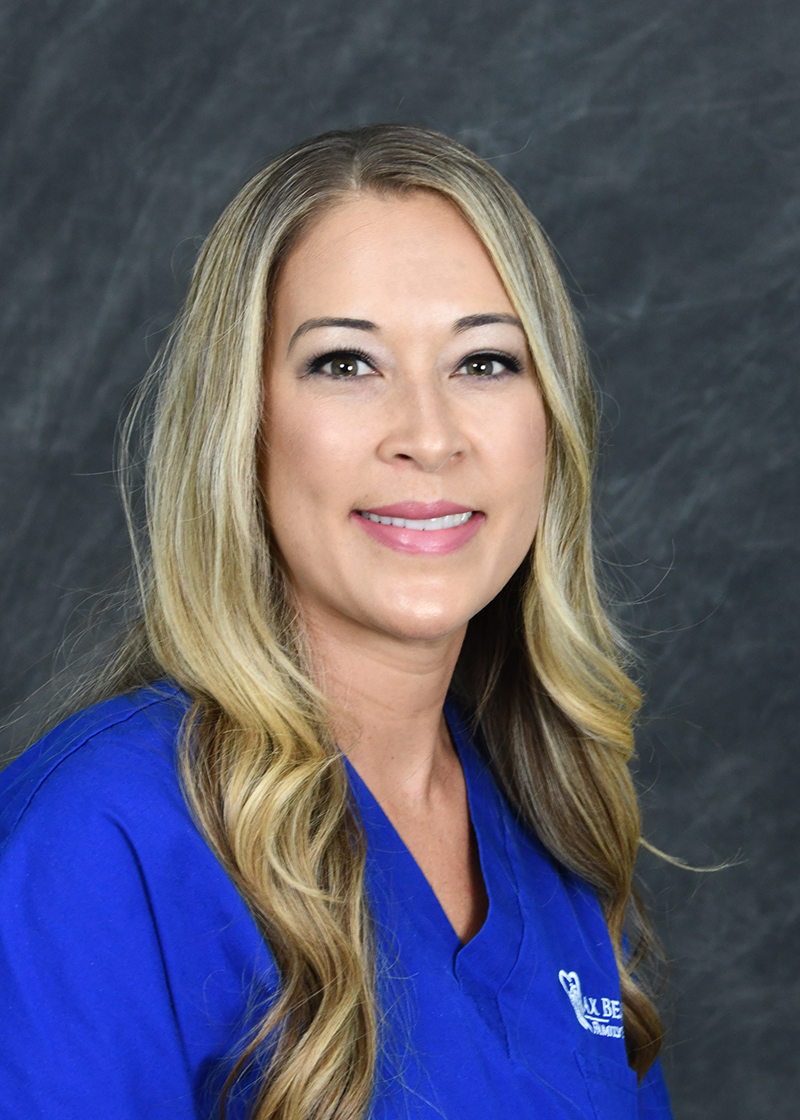 ---
Dr. Liz Alfuente
---
Dr. Alfuente was born in Houston, Texas, but moved to Florida in 1991. She received her Bachelor of Science degree in Microbiology from the University of Florida and her Doctor of Dental Medicine degree from the University of Florida College of Dentistry. She worked as a dental laboratory technician and a dental sterilization assistant between undergraduate and dental school.
Dr. Alfuente is a fully licensed and active member of the American Dental Association, the Florida Dental Association, and the Jacksonville Dental Society. She enjoys working in all areas of general dentistry and uses the latest technology to provide comprehensive dental care.
When away from the office, Dr Alfuente enjoys many outdoor activities and spending time with family and friends. She is happily married to her husband, Matthew, with whom she has three beautiful daughters named Kynslee, Kadyn, and Kylar.
---
Krystal
---
My name is Krystal, and I have been a dental assistant for 15 years. I obtained my dental assistant certification through the University of Florida. My passion is educating patients on how important their oral health is and making confident smiles.
In my spare time, I enjoy spending time with my husband and 10 year old son. We enjoy camping and taking our dog, Lady, for walks. And most of all, I love to sing Karaoke.
---
Shyla
---
My name is Shyla Green, and I have been a dental assistant since 2007. I absolutely love what I do! Dentistry is the future of healthcare. It is always changing and improving which lets me continue to learn and grow in this field. I've lived in Jacksonville for 4 years with my husband and 4 year old son. When I am not working, I enjoy soaking up this Florida sun and spending time with my family.
---
Bart
---
My name is Bart, and I am new to the position of dental assisting. I have a background of business management studies, and I am also a participant of this dental assisting school. I have enjoyed the process of learning all of the facets of dentistry, and I look forward to gaining more experience to further my career. While away from the office, I enjoy dancing and spending time with my dog, Kooper.
---
Keya
---
I am dental assistant of 6 years now, and I am also a licensed aesthetician. My office proclaims me as the fun police officer because I am super compassionate, charismatic, personable and passionate about my patients. I love educating and learning new skills, having fun, and staying focused. These are just a few of my super powers. I am a beach-lover, church-going individual who is always willing to lend a hand. I have always been in general dentistry, and I especially love oral surgery. I moved to Florida on my own in 2016, and when away from the office, I enjoy sunrise or sunset and any activities or festivities on the beach.